Kamini Ramachandran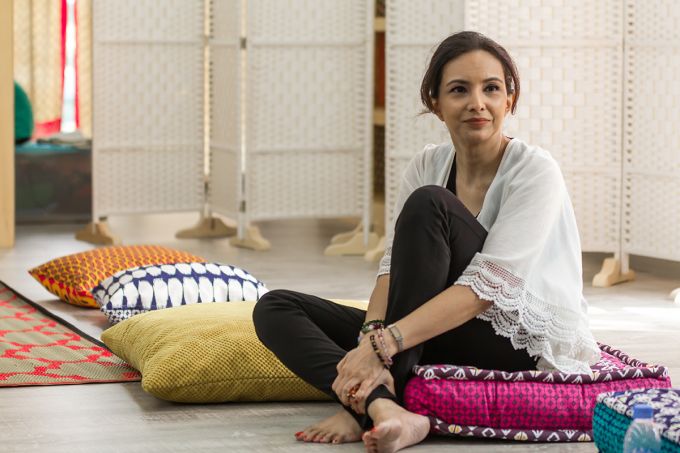 Kamini Ramachandran (FRSA) is director of MoonShadow Stories.
Kamini Ramachandran is a pioneer in the field of storytelling in Asia. She is the creative force behind MoonShadow Stories which spearheaded performance storytelling for adult audiences in Singapore. She teaches her course The Storytelling Intensive at LASALLE College of the Arts and directs the annual student showcase Stories Through The Mind's Eye.
She has contributed extensively to the global storytelling scene through her involvement in organising conferences and festivals. She is Creative Producer of StoryFest: International Storytelling Festival Singapore. Kamini is also the founding director of the non-profit arts organization The Storytelling Centre Ltd and she started the Young Storytellers Mentorship Programme to sustain the art of storytelling by nurturing emerging talents.
A fellow of the Royal Society of Arts with a Bachelor's degree in English Language & Literature (Hons) from the University of Reading, UK, and a Master's degree in Arts Pedagogy & Practice from Goldsmith's, University of London, she is a highly sought after artist educator in the field.
Kamini has performed commissioned works for The Esplanade, The Arts House, the National Arts Council and more. Her rich Asian repertoire of stories has taken her to castles in Belgium, ruins in Rome, greenfield festivals in England and Wales, sacred forests in Shillong, cities of Edinburgh, Sydney, Bangalore, Chennai and the Emirates, as well as the islands of Penang and Denmark.
Described as "Singapore's most mesmerizing storyteller" by Professor Tommy Koh at the International Summit of the Book she is one of today's most unique voices in storytelling.
Storytelling has always been vital for Kamini, from her earliest memories of her grandparents telling her stories to her efforts in continuing this storytelling tradition with her two sons every day since they were six months old.
Fluent in both English and Malay, Kamini studied English Literature & Language at the University of Reading (UK). Kamini is especially interested in Malaysian stories (legends from Borneo, stories from Langkawi, animal tales of Sang Kancil and Buaya, and lesser known Orang Asli folklore) as she still feels the pull of jungle spirits, having grown up in the peninsula's plantations. While she is comfortable telling stories to children, she is also adept at regaling adults, drawing on her preference for darker, ambiguous, other-realm supernatural tales. Her adult storytelling repertoire includes original stories based on personal experience ('The Dato Tree'), universal urban legends ('The Karak Highway Incident'), regional folklore ('Umpong Umpong & Babakud'), classic epics ('The Ramayana') as well as re-telling South Indian stories collected by the eminent Indian folklorist A.K.Ramanujan.
Drawing on her extensive knowledge of stories and the storytelling craft, Kamini has provided customized storytelling consultancy services for a variety of museums, educational institutions, festivals and organizations. She has been commissioned to research and create storytelling content for heritage and educational projects, folklore publications as well as curated museum exhibitions.
Kamini has performed at The Esplanade, The Arts House, in numerous theatres, in various museums, schools and universities, community centres, art galleries, auditoriums and convention centres, inside a giant inflatable nylon fish, in parks and gardens, at restaurants and cafes, libraries, shopping malls, festival tents and rooftops, ancient outdoor amphitheatres and heritage castles, underneath banyan trees and in tropical jungles, at intimate salons and soirees, with an orchestra in a concert hall and many more places in Singapore and around the world!
In her many years of public storytelling, she has observed the power of stories to touch hearts and to heal; and she continues her practice as a community artist.
Her focus on keeping traditional stories alive has taken her on journeys into the jungles of Malaysia to stay with the indigenous tribes, to small villages in Thanjavur to listen to rural women bring alive South Indian folktales and to Shillong where she re-told Khasi tribal tales to the community.
Please wait a moment for booklet to load.